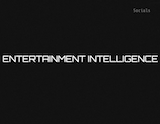 Entertainment Intelligence is a music data company that's putting playlist analysis tools into the hands of rights-holders. The business is creating a set of apps for other music and entertainment companies, including one to track playlist performance. The playlist program is currently in closed beta.
"We're building tools that will take your data, clean it and present it in a way that allows all stakeholders in the artist ecosystem to make informed decisions,' said Sammy Andrews, director of Entertainment Intelligence. "We look forward to working with many more labels, artists and managers who want to understand their playlisting landscape, as well as working with the rest of the industry on some amazing tools we have in development."
This niche of companies that specialize in data and analytics has been of increased interest for the music business for several years. Smaller ventures are picking up investments, and ones that become successful may become acquisition targets, as happened to Seed Scientific, Next Big Sound, and The Echo Nest.