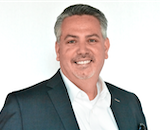 Major U.S. commercial radio group Entercom announced that it has hired Ken Lagana as executive vice president of digital sales. Lagana assumes this newly created role from Megaphone, where he was head of sales and marketing and played a key role in developing the Megaphone Targeted Marketplace. He will head up the sales strategy for Entercom's digital business, which includes the recent podcast acquisitions of Pineapple Street Media and Cadence13, as well as its growing RADIO.COM platform.
"I am extremely excited to join the Entercom team and further build on the incredible success of RADIO.COM," Lagana said. "I am even more excited about the recent acquisitions of Pineapple Street and Cadence13 – two amazing digital audio brands in their own right. We are seeing a massive resurgence by major brand advertisers who are taking advantage of the power of spoken word and streaming digital audio. RADIO.COM is incredibly well positioned to deliver the targeted reach, scale and efficiency that these advertisers have come to expect from digital platforms."
"I have known Ken a long time and have immense respect for the large digital businesses he's helped build," said J.D. Crowley, Entercom's chief digital officer. "Ken has an incredible reputation in the industry for creating innovative programs at scale that solve challenges for marketers. We're excited to welcome him to the team as we continue to help shape the rapidly growing digital audio marketplace.