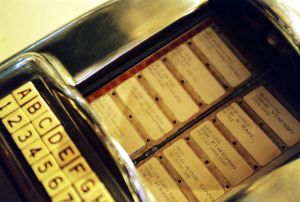 When I was growing up my parents sometimes took the family to dinner at a local diner. There was a jukebox against one wall. That rudimentary music service seemed to me like the most marvelous invention. Thinking back, I can still feel the magnetic pull of the jukebox and peering through the glass cover to see what songs were available. Then the hard indecision, and the joy of hearing my chosen music.
The decision was weighty because the cost was steep, especially in retrospect. A nickel, dime, or quarter (depending on the jukebox and the era) bought a single listen to a single song. How could such a poor value proposition be popular enough to drive a thriving jukebox industry across America over several decades?
Cost was balanced by two enduring values. One of those values was choice. Access to music, as opposed to ownership, found its first demonstration in jukeboxes, and proved as compelling as today's cloud-based access model. It's worth noting that interactive music subscription services have, since their inception, been collectively termed "the celestial jukebox."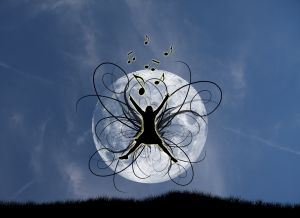 The second value was "place." Jukeboxes put music records in places they hadn't been before, opening new environments for listening. They expanded the "listening pie" by creating new times and places for music to be consumed.
Last fall Edison Research completed a study called The New MainStream (commissioned by Pandora, Spotify, and TuneIn) which examined how online music services of all types have affect the music-consumption habits of American adults. The survey results found that for over a quarter or Americans (26%), listening to online music did not displace pre-existing music sources (radio and music collections), but happened in "new time."
New time for music is activated by new place, just as with the jukeboxes of my childhood and teen years. In the 2010s, the "new place" is everywhere, represented by the smartphone (everywhere on foot) and the car (everywhere on wheels). The explosive expansion of the listening pie results from a convergence of technologies: the smartphone, the digital dashboard, high-speed mobile bandwidth, and cloud services that obviate the need to collect music for many.
Technology has driven listening for generations. Before jukeboxes, player pianos infiltrated the home, predicted over a hundred years ago to destroy the creation of music. If that sounds familiar, perhaps you've been listening to the House Judiciary Committee hearings this summer.
The jukebox of the 1940s through the 1970s, primitive to us now, was an ingenious piece of technology. One of the earliest contained a revolving platter holding eight turntables, each with a single 78 RPM vinly platter ready to go. You chose which record got the needle dropped onto it. An eight-song catalog. Later iterations incorporated carousels holding dozens of 45s which could be shuffled into place for a single tireless turntable arm.
Online music services and mobile tech have created a celestial jukebox that's available anywhere — an astonishing marvel best appreciated by people over 35 and history students. But Rhapsody, the granddad of on-demand music clouds, wasn't the first cloud-jukebox concept or model. Rhapsody, Spotify, and all the others derived from 1990s-era Napster, a wild and rogue unleashing of bedrock jukebox values.
Many thought that Napster's monumental popularity and music-industry impact happened because music was (illicitly) free. "You can't compete with free," the labels complained. But you can, and the tech companies figured out how to make easier, safer, altogether better jukeboxes than Napster and its file-sharing ilk. In Sweden, Spotify's native country, rampant file-sharing was, to a large extent, swayed into the licensed service.
When Spotify expanded to the U.S. in 2011, I had been a Rhapsody subscriber for nearly 10 years, and had taken a swim in each of the transient music services that came and went during that time. Today, like every day, I will dive into several services that now crowd the listening landscape. And it's always the same thrill of peering into the catalog, seeing old favorites and new surprises, deciding, hearing. The modern versions of the jukebox are streamlined to the consumer's favor in every way — less money, more mobility, bigger selection. But I think the attraction is essentially the same as when I was a kid. Your music, wherever you are now.