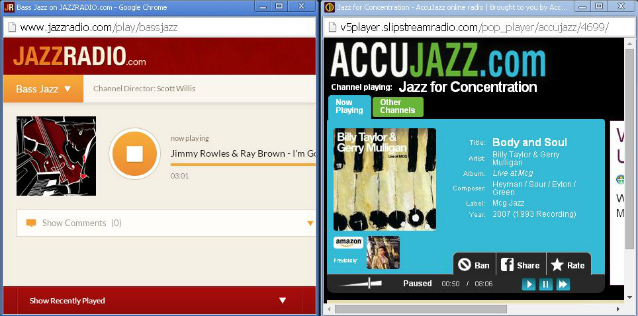 Jazz lovers can be hardcore fans, with specialty interests in historical eras, legendary performers, and certain instruments. The genre lends itself to more specialized coverage than what is normally found in the universal music services. For the lean-back jazz aficionado, two services — JazzRadio (www.jazzradio.com) and AccuJazz (www.accujazz.com) — provide seemingly endless great listening tailored to mood and sub-genre. (Note: AccuJazz is a spinoff of AccuRadio, founded and operated by RAIN's founding editor, Kurt Hanson.)
JazzRadio and AccuJazz are both non-interactive Internet radio services that provide dozens of channels each. AccuJazz has over 50 stations; JazzRadio currently features 36. Both are programmed by humans. One notable difference is that AccuJazz allows song skips, and we could not find any skipping feature in JazzRadio — which is therefore a more lean-way-back experience.
Surveying the station lineups, AccuJazz takes the granular, analytic approach that characterizes the main AccuRadio site. Channels are grouped by Style (e.g. Big Band, Bebop, Fusion, Latin), Instrument (e.g. guitar, organ, piano, sax), Decades (self-explanatory), and a couple of record label stations (Blue Note and ECM). Specialty stations that defy categorization include Broadway Jazz, Spiritual Jazz, and Emerging Voices.
JazzRadio is organized by genre for the most part, with filtering by mood and atmosphere. So you can choose Smooth Jazz, Hard Bop, Bossa Nova (and Smooth Bossa Nova), Fusion Lounge, and many other niche styles. There are a few instrument channels also — piano, bass, guitar, vibes. Clicking a filter button (e.g. Relaxing, Upbeat, Swinging, Mellow & Cool) collects a subset of suggested stations.
JazzRadio offers a subscription service at $70/year or seven dollars a month. Signing on eliminates commercials and delivers higher-quality audio. (An audio comparison on the sign-up page is persuasive.)
Both services furnish a pop-out player that you can tuck into a corner of your screen for all-day listening and channel-switching. You have to look for the tiny popo-out button in JazzRadio; the AccuJazz player just springs open when you click a station.
Jazz lovers should be acquainted with both these listening platforms. Each provides a sumptuous buffet of jazz treats.