Edison Research presented new research at the Country Radio Seminar in Nashville this week. The presentation was notable not only for its detailed survey of Country Music listeners and general attitudes toward radio, but for two other reasons as well. First, the slide presentation was a dazzling, Star Wars-influenced "Ear Wars" show complete with deep-space Lucas-style video backgrounds. (See it here.) Second, because Edison revealed new numbers from its ongoing Share of Ear study.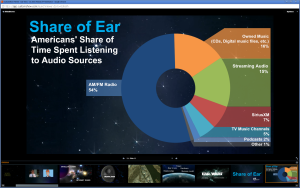 The Share of Ear results derived from a 1,560-person survey. The purpose of Share of Ear is to measure how Americans listen to all available audio across platforms, products, and paradigms. So, owned music (e.g. CDs and iTunes downloads) is placed alongside streaming and traditional radio. Here are the key Share of Ear metrics as a percentage of time:
AM/FM: 54%
Owned Music: 16%
Streaming Audio 15%
Sirius XM: 7%
TV Music Channels: 5%
Podcasts 2%
One purpose of "Ear Wars" is to identify key engagement points for terrestrial radio. Personality is one key advantage mentioned by respondents who participated in video-recorded interviews. "TheDJs are awesome," one person enthused, and more than one individual praised morning personality programming.
Locality and involvement with the community also came out as attributes that listeners like. "Sirius has never supported the local animal shelter," one respondent noted.
When it comes to music, familiarity and discovery were both noted by survey respondents who agreed with a series of reasons to listen to radio:
To hear favorite songs: 77%
To discover new songs: 70%
For news & information: 68%
To know that you'll be informed if major news breaks: 63%
Personalities and DJs: 46%
Those percentages all ratchet upward when the survey group is limited to Country radio listeners.
Interestingly, 40% of respondents are more likely to pay attention to a commercial when spoken by the DJ, and 46% are more likely to purchase a product or service if the DJ discusses it. The personalization of commercial messages has been a hallmark of podcast monetization success, and speaks to the natural connection of radio to on-demand audio.