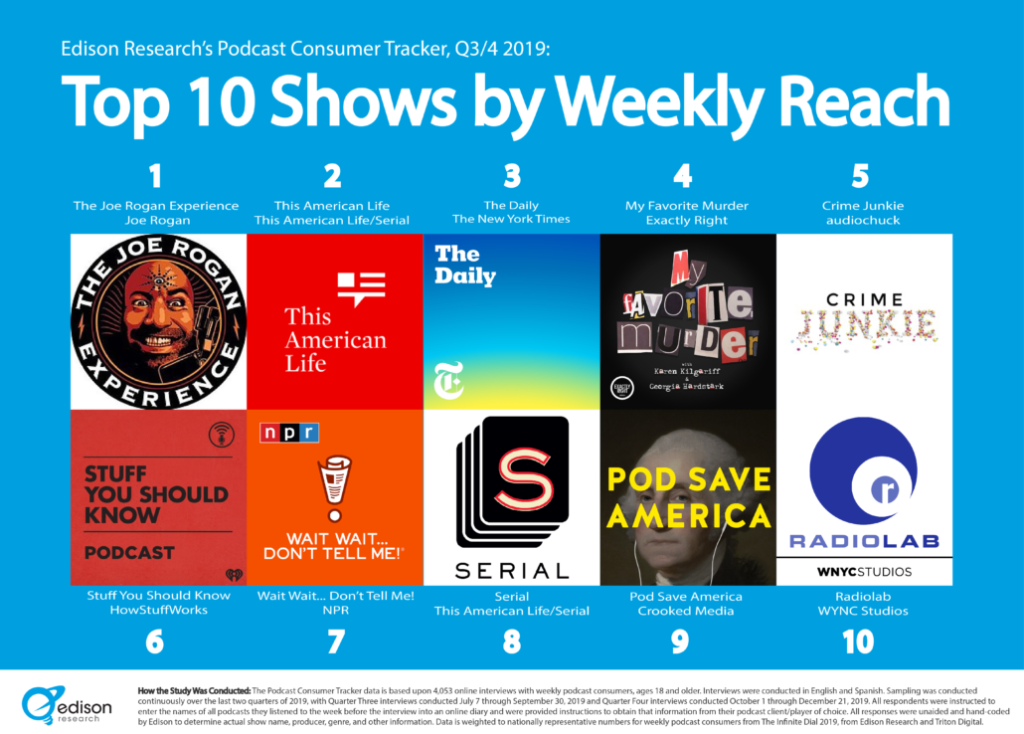 Edison Research has  broken out a Top Ten Podcast ranker, which measures podcast popularity among weekly podcast listeners. Edison emphasizes that the new ranker is an "all-inclusive" list — a distinction which differentiates it from the Podtrac monthly list of top 20 podcasts, which is composed of Podtrac-measured shows. The Edison list is the result of consumer surveying, so any podcast is eligible. that type of measurement also differentiates from Triton Digital's announced U.S. Podcast Reports, which will be based on  server-side measurement.
So. What Edison is launching is a quarterly consumer survey targeted to weekly listeners. The ranker will be released quarterly, and will represent a rolling four-quarter average, we were told by Edison. Today's first release (below) is an average of Q3 and Q4 2019. Edison SVP Tom Webster told RAIN: "Next quarter we will release a 3-quarter average, the quarter after that a 4-quarter average, and from that point on we will roll off the oldest quarter and roll in the newest for a true rolling 4-quarter average."
That schedule is also a differentiator, smoothing out flashes in the pan of podcasting, and rewarding enduring programs that have gained wide mindshare.
That smoothness of popularity is represented in the first list:
The Joe Rogan Experience
This American Life
The Daily
My Favorite Murder
Crime Junkie
Stuff You Should Know
Wait Wait…Don't Tell Me!
Serial
Pod Save America
Radiolab
"This ranker looks deceptively simple," notes Tom Webster in today's press release, "but it's the product of hand-coding tens of thousands of podcasts from a sample of over 4,000 podcast listeners. Podcast listening is still fairly fragmented, and it wasn't until we had this large a sample that we felt it would be responsible to even put out a top ten, let alone a longer list."
The ranker project is part of the Podcast Consumer Tracker, an Edison Research subscription product. The survey spanned 4,053 online interviews with weekly podcast consumers, ages 18 and older. Interviews were conducted in English and Spanish.