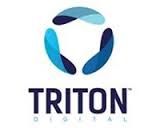 Triton Digital announced that it will extend its Podcast Reports product to the U.S. This extension follows introductions of Podcast Reports in Australia and Latin America. Triton will also begin a Netherlands report in 2020. The launch of a U.S. product will provide metric snapshots in the world's biggest podcast market — at least, as it is shaped by the audiences of participating publishers.
The reports integrate directly with podcast hosting platforms and content distribution networks. Triton says this deep data tunneling will "eliminate inconsistent measurement practices and self-reported data, providing content creators, marketers, media buyers, and the audio industry at large with validated and transparent podcast metrics for the first time."
The mention of media buyers is keyed by an integration agreement with FreeWheel's buy-side campaign planning and buying platform Strata. This arrangement positions Triton's measurement product as a key metrical buying guide to podcast advertising across participating publishers. Those participating launch partners include NPR, Entercom's RADIO.COM (which in addition to its own podcasting embodies podcast units Cadence13 and Pineapple Street Studios), Stitcher, and CUMULUS MEDIA (which includes the Westwood One Podcast Network). Opt-in inclusion in the report is available to any Triton Digital measurement subscriber.
The governing metric for ranking in the Triton Podcast Reports will be Average Weekly Downloads. (Triton notes this is "in accordance with the latest IAB Podcast Technical Measurement Guidelines.")
"We are pleased to leverage our 10+ years of digital audio measurement expertise to provide reliable and informative data around podcast consumption in the U.S.," said John Rosso, president of market development at Triton Digital. "Our Podcast Reports will provide buyers with the trusted, third-party podcast measurement they need to make informed decisions around podcast advertising. Furthermore, our reports will provide podcast Networks with the reputable consumption data they need to grow their podcast strategies, gain a better understanding of their listening audiences, and increase their advertising revenue."