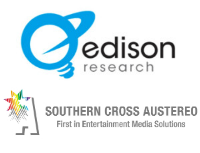 Edison Research announced a strategic relationship with Southern Cross Austereo, Australia's largest radio company.
"This relationship will include bringing Edison's research advancements to the Asia Pacific region, representation of SCA's innovations in North America and in the future, a further deal that will allow SCA and Edison to work together throughout the APAC region," according to Edison's announcement.
Edison Research is one of the world's most influential consumer polling and survey organizations, with a specialty in media consumption data. The Infinite Dial and Share of Ear are two ongoing consumer listening studies conducted by Edison.
Southern Cross Austereo was formed in a 2011 merger of Southern Cross Media Group and Austereo. The combined group has the largest radio footprint in australia, concentrating in Rock, Hits, and Variety formats.
We are delighted to announce this new connection between SCA and Edison," said Guy Dobson, Executive Director – Metro Operations for SCA.  "As SCA charts its future in audio, we can't think of a better partner to deliver us the latest insights."
Edison Research President Larry Rosin said, "I couldn't be more excited about furthering Edison's international expansion with this link-up with SCA. The opportunities to develop strategies for the future of audio in Australia, combined with the potential to bring these advancements to all of the Asia Pacific region, creates enormous potential for both parties."