Edison Research and the Knight Foundation collaborated for a study investigating the podcast audience, with interviews of nearly 29,000 podcast listeners. All of the participants are age 18 or older and listen to at least one audio podcast from NPR, WNYC, American Public Media, WBUR, PRX, or Gimlet Media. A comparison of these results with the more general habits detailed in The Infinite Dial surveys show some marked distinctions between casual and serious podcast listeners.
Dubbed "super listeners," the Knight and Edison study found notably more podcast consumption among its participants. Weekly podcast listeners consumed about 10 hours of the audio content per week, compared with about five hours seen in The Infinite Dial. Super listeners also listen to an average of 13 shows a week compared with five in the previous research. Among the super listeners, 81% said they subscribe to podcasts and download the episodes automatically for later listening. That behavior is more removed from the "click and listen immediately" approach followed by most Infinite Dial respondents.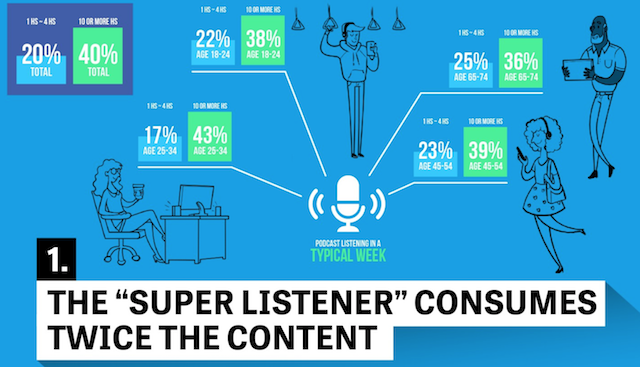 Super listeners reported favoring on-the-go podcasts, with 93% listening on their smartphones and 84% saying their phone is the primary podcast listening platform. "At home" was still the top location for Knight respondents at 31%. The Infinite Dial had 52% at-home listening.
Another unique trend among super listeners is their likeliness to spread word-of-mouth about their favorite shows, with 96% reporting that they had suggested a podcast to a friend. About half of the super listeners also said that recommendations from podcast hosts, friends, and family were their primary means of learning about new shows.
Super listeners also reported seeing podcasts as trustworthy sources of information. They also put money toward public media, with 32% donating to their public radio stations and 28% donating directly to a podcast or radio station.
Finally, super listeners are more likely to seek out podcasts as digital formats rather than first hearing a show as part of a live radio broadcast. Nearly half, at 47%, listen to programming only as a podcast, while 32% said they listen to podcasts and on the radio, but are more likely to favor podcasts.