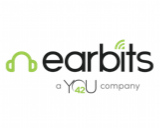 Earbits announced that it has been acquired by You42. The online radio company had a near-death experience last year, shuttering for about three days before a mysterious benefactor swept in to save the day. After a year of working with You42 under wraps, the newly owned Earbits is ready to launch new releases of its iOS and Android apps next month.
The streaming platform offers a different business model than most big names in that field. With no ads, commercials, or subscriptions, Earbits instead presents streaming more as a discovery engine for listeners and a marketing platform for musicians. From the app, listeners can join a band's mailing list or get involved with social sharing in exchange for Earbits currency. Most of the listening comes from lean-back, genre-based channels, but you can pick a track to hear on demand for 10 Groovies. Earn those Groovies by sharing a song to Facebook or signing up for band newsletters.
For now, Earbits has music by 14,500 artists and commands more than 300,000 registered listeners. The company team is 13 people, with plans to double staff in a year.