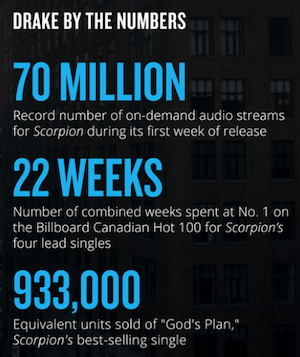 Nielsen is continuing its data drops this week, following up its 2018 United States stats with a review of the music market for Canada. Total album equivalent audio consumption increased 21% in Canada for 2018. The growth largely stemmed from streaming. On-demand audio song streams rose 47% to surpass 59 billion in 2018. Total audio and video on-demand streams for 2018 grew by 45%.
"The music industry in Canada is thriving following yet another year of tremendous growth and engagement," said Paul Shaver, vice president of Nielsen Entertainment Canada. "Canadians are listening and engaging with more music than ever before and we're seeing an increased diversity of taste among listeners."
Canadian artists performed well during the year, led by hometown favorite turned international sensation Drake. He topped the charts in Canada as well as in the U.S., securing the most-consumed album and song. Scorpion had 424,000 on-demand album consumption units, including more than 481 million audio on-demand streams. "God's Plan" generated more than 138 million audio and video streams during the year.