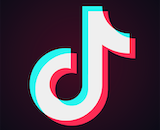 DistroKid has added support for one of the most popular social networks. The company can now distribute to TikTok. New music can be sent to TikTok when it is uploaded, while tracks already in DistroKid's system can be added to TikTok through the "Add to more stores" menu. In announcing support for TikTok, DistroKid noted that this integration had been requested "on a daily basis."
TikTok's short clip format has helped several tracks go viral with music videos or lip syncing contests. Most recently, it was the spark for vaulting Lil Nas X's "Old Town Road" to a summer sensation.
The app's popularity and power have also attracted attention from labels. Earlier this year, we reported on rumblings that the major labels would be looking to renegotiate their deals with parent company Bytedance to receive more money for tracks used and shared on TikTok.