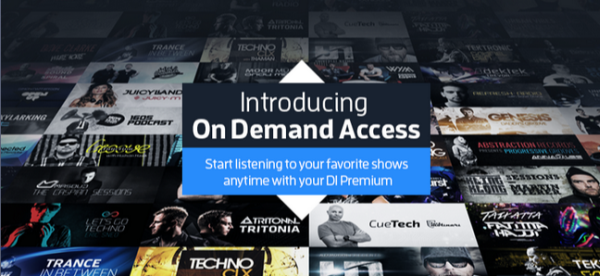 In the second step of a three-point plan to reinvent its service and re-imagine what an electronic-music listening platform can be, Digitally Imported (DI.fm) today launched on-demand listening alongside its station streams. Offered to Premium subscribers at no additional charge, on-demand listening stretches DI.fm across the fence between non-interactive and interactive services. The company points to innovative music licensing with partner labels as key to the new service.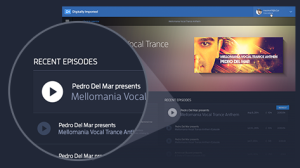 We spoke with Founder and CEO Ari Shohat about the evolution of Digitally Imported. He noted the fragmentation of the music service market generally, forcing listeners to go to several places to get everything they want. DI's bridging of online radio (the non-interactive piece which DI built its reputation on) to on-demand listening (the new piece) represents a mission to unify the user experience. Shohat noted that the recently announced Apple Music is attempting something similar, but that DI is the only electronic-music specialty service which puts lean-back and lean-forward usage "under the same roof."
"We've got the best of both worlds." –Ari Shohat, Founder and CEO, Digitally Imported
Part of today's announcement is the introduction of new content partnerships. Last October, when Digitally Imported announced its new platform vision, it also listed nine independent distributors that signed on. Today five more have joined: Baroque Records Ltd., finetunes, Kontor, N.E.W.S., and Toolroom.
Music licensing is typically bifurcated into non-interactive licensing (governed in the U.S. by statutory rate-setting) and interactive licensing (with rates determined by direct negotiation between the service and rights-holders). DI.fm needed a different, more comprehensive licensing agreement to accomplish its platform goal.
"We reinvented the digital music licensing model," Ari Shohat told RAIN News. "We pursued comprehensive agreements to cover both the interactive and non-interactive portions. That has been rolling along really well."
On-demand listening at Digitally Imported starts today for Premium users (a 7-day trial is available), and will roll into the service over time. To start, DI's entire 2015 catalog of mixed shows is available — those are big content blocks of about an hour each. There are 5,000 of them.
In coming months, albums and tracks will be added to the on-demand library, with an expectation of about 400,000 tracks. Ari Shohat pointed out that curation remains a brand-identifying aspect of the on-demand library, as it always has been in DI.fm non-interactive streams.
The company emphasizes customer retention in the Premium subscriber base: 90% of monthly subscribers renew their subscriptions, and 95% tune in at least once a week.
DI's grand plan is three-fold: 1. streaming listening (the existing business), 2. on-demand streaming (starting today), and 3. track purchasing and downloads (by the end of this year). The strategic intent is to give electronic music listeners a solution to the quandary of visiting three platforms for those three uses.
"We're strengthening the value of the Premium service with the release of on-demand listening.," Ari Shohat said. "We're seeing artists and labels showing support for this model. We've got the best of both worlds."