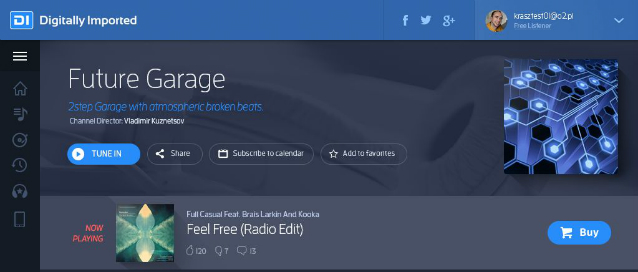 Digitally Imported (DI.fm) announced details and partnerships related to its upcoming platform overhaul, which RAIN News previewed two weeks ago. The ambitious plan to build interactive features on top of a renowned electronic-music pureplay radio site is now fleshed out with key content partnerships.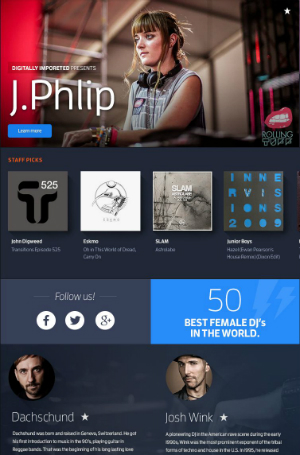 Nine independent distributors are cited in today's press release:
Believe Digital
dig dis!
digedo (a subsidiary of daredo)
FUGA
Groove Attack and Rough Trade Distribution (represented by GoodToGo)
Label Worx
Paradise Distribution
Symphonic Distribution
These agreements represent "the electronic music market's first content licensing agreements to include non-interactive, interactive and master rights to enable complete integration across the three key areas of online music consumption," according to the announcement.
Additional relationships are in the works, DI.fm told RAIN.
As a rough outline of the new service, the plan is to add interactive features such as music bookmarking and purchasing music to the Digitally Imported experience, which currently operates as non-interactive online radio. Eloy Lopez, COO at DI.fm, told us, "The unique features we're introducing are all about providing one experience, a convenience for the user who does not need to go to a different service to enjoy these features."
Lopez told RAIN that DI.fm users, and electronica fans in general, over-index for music purchasing. Digitally Imported is a preeminent platform for music discovery, and wants to keep users in the house for the entire consumption cycle — listening, discovering, archiving, purchasing. "We are integrating it all under one roof, " Lopez said, referring often to the key concept of convenience.

The new site is under development of both the front end (look-and-feel) and the back end (new interactive functions). A closed beta period will occur this year for invite-only testing. Lopez told us he expects the new DI.fm to be fully launched to the public in Q1 of next year.
The ambition of this project cannot be overstated. Enabling music purchases and other interactivity on a non-interactive platform will create an on-demand music service for a tightly defined music category, and super-serve an audience which has particular requirements and appetites.