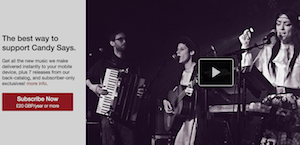 Bandcamp introduced a new approach to music ownership this week with the trial of an artist-based subscription. An independent band called Candy Says is using the direct-to-fan platform's beta feature to offer an annual subscription to its music. For £20 (about $32) a year, listeners can have seven of the group's back catalog and Bandcamp-only albums in addition to all new releases. The songs will be made available as downloads and as streams.
Future artists who take advantage of this feature will have a "Subscription" tab appearing on their Bandcamp pages. If listeners want to pay more, they have the option to do so. In a time when music ownership and purchasing are such a hot topics, the decision to make both streams and downloads available to subscribers is an interesting one, putting choices and control in the listeners' hands.
This is an intriguing alternative to the new ad-supported model now in development at SoundCloud and to the project-based crowdfunding approach of Kickstarter. It most closely resembles Patreon, where creative people seek ongoing pledges for their artistic ventures. We're curious to watch how other artists start to leverage the tool and also how their fan bases respond.