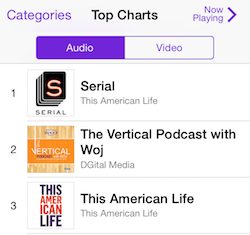 DGital Media is at it again, adding another sports show to its roster. Yahoo Sports' Adrian Wojnarowski, usually nicknamed Woj, is hosting the new program, which debuted today and quickly rose to the No. 2 spot in the iTunes charts. Wojnarowski will host conversations with pro basketball players, coaches, and executives; NBA Commissioner Adam Silver is the first guest on "The Vertical Podcast with Woj."
"We want to use the podcast to go deep with subjects, bringing our audience must-listen content," Woj said.
DGital will produce, distribute, and monetize the basketball-focused show. The podcast is currently appearing on iTunes, Stitcher, and Yahoo Sports. It will be supplemented with a new site called The Vertical within the Yahoo Sports umbrella, a similar structure what Bill Simmons created at ESPN with the Grantland site and his eponymous podcast.