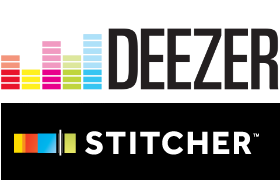 Global on-demand music service Deezer is announcing today the integration of new, entertainment, and sports audio programs, following Deezer's acquisition of Stitcher, the long-established podcast app, in October. The integration mixes talk programs to Deezer's 35-million-song music catalog.
The strategic intent is to provide a one-stop audio destination for whatever the listener wants — a music playlist, an NPR archived show, a favorite podcast. Deezer now claims to offer "the most extensive and customizable audio experience across the globe."
The music+Stitcher integration is immediately available in the U.K., France, and Sweden. The launch will extend to other countries in Deezer's vast global footprint during this year. The Deezer brand operates in 180 countries.
Deezer is not fully launched in the U.S. as a desktop/mobile service, but is available to American listeners via the Deezer Elite brand which streams through Sonos WiFi home speakers. A less customizable, radio-like service called Deezer Premium Plus is available in the U.S. via Bose connected speakers.
The acquisition of Stitcher addressed listener demand for on-demand talk programming and podcasts to live side-by-side with music in a celestial jukebox. At the time of the acquisition, Tyler Goldman, American CEO of Stitcher, told RAIN News, "Talk lags behind music, but among our users there is an enormous demand for talk content." He noted that at least half of Sirius XM content is talk programming.
Interestingly, today's announcement does not mention Stitcher, which makes branding sense as Stitcher's programs are seamlessly woven into the Deezer experience. At the same time, the stand-alone Stitcher app continues to operate.