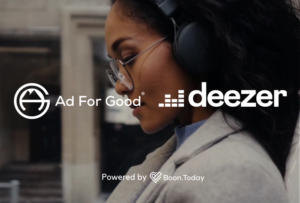 As of today, global audio streamer Deezer has joined Ad For Good, a certification label that encourages brands to give at least one percent of their media budgets to social or environmental causes, and provides technology to do so.
Deezer says it is the first audio streaming service to adopt the label.
Ad For Good certification grew out of Boon.Today, which launched in 2016 and whose mandate is "Conscious advertising made simple." It promises to connect ad campaigns to social and environmental causes, providing both expertise and technology which make the one-percent donation a turnkey operation. As of now, Boon.today is integrated with Deezer's ad offering. Brands will now be able to work with Deezer's Brand Solutions teams and Boon.Today to identify opportunities for socially conscious ad campaigns. Each campaign can be closely aligned with the buyer's responsibility and sustainability goals.
The partnership applies to all of Deezer's global advertising markets, including France, Brazil, Germany, UK, US, The UAE, Turkey and the LATAM region.
"It's exciting to be the first audio streaming platform in the world to offer our partners, media agencies and brands the option to advertise in a socially conscious way," said Emilie Proyart, VP Advertising Sales at Deezer. "Technology from Ad for Good and Boon.Today will allow us to communicate responsibly to our users using audio, video and display ads. This is a first and important step for us to make a difference in the world, as part of our ongoing effort to work towards a better future with our clients."
"We are delighted to have been chosen by a prestigious brand like Deezer. Our partnership will make it easier for brands to support social and environmental projects, and for Deezer to follow through on its purpose driven advertising strategy," says Shaï Douillet, CEO and co-founder of Boon.
.