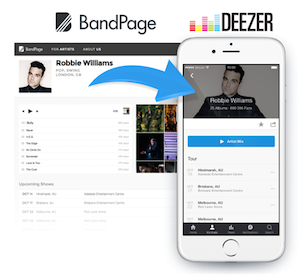 Deezer announced a partnership with BandPage that will see the two companies collaborating on tools to help artists connect with their fans within the streaming platform. Deezer will begin targeting specific offers and events to artists' top listeners with BandPage's targeting tool. Artists will also be able to include event listings and photos from their BandPage presence on their Deezer profile pages.
"We are excited to launch this integration with BandPage in order to give music fans more relevant, engaging access to their favorite artists while helping artists grow their business," said Alexander Holland, Deezer's chief content and product officer.
In addition to this development, Deezer has also announced that it is planning to raise 300 million euros ($343 million) from its IPO. The company is slated to list on the Paris stock exchange later in October, with trading expected to start on Oct. 30. With a price target between 36.40 euros and 49.24 euros per share, the streaming service projected net proceeds of about 291 million euros from the sale.