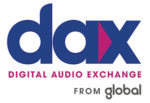 DAX, the programmatic audio platform from UK broadcaster Global, has released research into the outlook for digital audio advertising in the UK. The data from research firm MTM examined the sentiments toward digital audio held by advertisers and media agencies. Interest is generally high, with 80% expecting to put more money into digital audio over the coming year.
Among the respondents, 79% said they believed reaching audience through voice platforms would be critical over the next year. Sixty-eight percent said they plan to create ads specifically for voice-activated devices this year. Podcasts are seen as having potential; 77% said they see podcasts as an untapped opportunity and 66% said they plan to advertise in podcasts in 2018.
The audience for digital audio also looks promising to these advertisers. Seventy-four percent said they believe digital audio listeners are highly engaged, and 86% said digital audio is "a great way to reach a listener in a one-to-one context, directly via their headphones."
Even with the positive feelings, respondents did say they wanted better tools for measuring the return on investment and the effectiveness of digital audio ads in order to drive more growth.