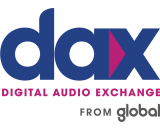 Digital audio advertising platform DAX held an Upfront presentation last week. The company announced multiple new publisher deals at the event as well as a new feature for its clients.
The new feature is DAX Cross Device. This service is a multi-platform measurement solution that allows advertisers to better monitor the effectiveness of their campaigns. It can track a campaign across music, podcast, and digital radio streaming services on different devices. The feature will also follow a listener's path to purchase across those devices and services. It is due to launch next year.
DAX also updated its Listener Insight ID tool with a podcast measurement solution. This tool will be available as a standalone podcast-specific product to be deployed on pre-roll, mid-roll, and post-roll content or on host-read ads. Head of Data Eleanor Marshall presented these items at the Upfront.
"The need for cross device measurement is nowhere more acute than in the podcast space," she said. "Not only is it the fastest growing form of audio content but it is also the hardest to track. The majority of podcast inventory is delivered on app, while the vast majority of calls to action are browser based, meaning that post-listen behaviour tends to fall down a data black hole."
On the publisher side, DAX has entered an exclusive partnership with Telegraph Media Group, and will help it to grow and monetize its UK podcast portfolio. NME is also a new partner, and is onboarding its NME Radio 1 and NME Radio 2 properties. DAX has also teamed with NOW Music, which has made its inventory available on DAX's platform.