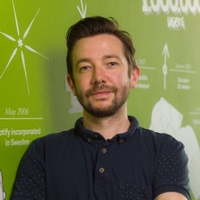 David Cooper, RAIN Summit speaker who has held executive roles in the UK with Global, Spotify, and Global-owned DAX, has joined audio production house Red Apple Creative.
"I'm very excited to finally be given the chance to work with my good friends over at Red Apple Creative," Cooper said in a LinkedIn post. "As a business, I've followed their fortunes for well over a decade now as they've grown and flourished across both audio and digital platforms."
Red Apple creates audio for publishers, advertisers, and agencies. It's productions range across audio branding, audiobooks, podcasts, radio ads, foreign language content, and events. The company has a years-long relationship with Spotify, creating what it calls "intelligent integrated campaigns."
Cooper's position is titled Digital Audio Specialist, and appears to be focused on specific projects. Founder and Director of Red Apple Creative, Paul Golliker, said: "It's fantastic that David is joining us for a few months to work on some exciting projects in our Audio Department. With his experience at Spotify and DAX he is one of the leading names in digital audio and is the perfect addition to our team. Following several years of working together as partners, we're excited that he'll be working with us directly on projects together."
.