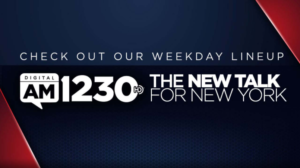 WFAS-AM has moved from the analog band to HD radio while rebranding to AM1230Digital. Cumulus Media subsidiary Westwood One programs the station with News/Talk on weekdays and Sports on weekends.
In explaining the switch, the Westwood One press office mentions "improved sound quality and clear reception to an expanded listening area," as the signal now extends beyond the broadcast home base of Westchester County, NY, into sever New York City boroughs and parts of New Jersey and Connecticut.
The station is also streamed at AM1230digital.com. (A large rotating display ad caught our eye, as it featured marketing from Audible, Spotify, and Deezer in quick succession.)
We tested reception via an Alexa speaker, which responded correctly to the old branding ("Alexa, play WFAS-AM"). When we asked Alexa to play "AM1230Digital," we got Radio NL, broadcast 610-AM, a Canadian station owned and operated by Stingray. We have no explanation for that mix-up. NOTE: Cumulus tells us the company's tech teams quickly repaired the Alexa confusion. We appreciate the folloow-up!
HD Radio is available in "most new car models," according to the press notice. The HD Radio website does cite 30 car companies which put HD into at least one model in their lineup.
"CUMULUS MEDIA has been a long-time supporter of HD Radio and part of the pioneer broadcasters who led the US radio industry conversion to digital broadcasting," said Joe D'Angelo, SVP, Broadcast Radio, XPeri. Xperi acquired DTS in 2016, after DTS acquired iBiquity in 2015 — iBiquity is the developer of HD Radio technology. 
"We are excited to see Cumulus continuing this role of industry leadership in converting their AM NY property WFAS to all digital HD Radio under the AM1230Digital brand," D'Angelo said. "The technology will be sure to delight both listeners and advertisers. This is another step in securing broadcast radio's place in modern car dashboards."
.