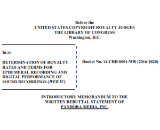 Although thousands of pages of legal arguments and rebuttals have been submitted over several months, today marks the start of a five-week process at the heart of Webcasting IV — the in-person litigation of U.S. music licensing rates for the 2016-2020 royalty period.
"Today, it is just the opening statements where the attorneys summarize what they will prove over the next 5 weeks of trial," broadcast law attorney David Oxenford told RAIN News.
Those opening statements are made to the key lawmaking body that governs how much Internet radio pays record labels and artists: the Copyright Royalty Board (CRB). The three-judge CRB is charged with setting new webcasting rates every five years.
Trial positions and evidence have already been submitted in written form, through so-called Direct Statements (the opening salvo of royalty rate proposals) and Rebuttals. While several major industry players are involved, the trial arguments can most easily be framed by the two chief Webcasting IV antagonists, Pandora and SoundExchange.
Pandora will argue for lower music licensing rates for the use of recordings by Internet radio outlets. SoundExchange, which collects those royalties on behalf of artists and labels, will argue for higher rates. In those arguments, rate amounts are generally specified as fractions of a penny per stream. For Pandora, which by some calculations pays more than half of all SoundExchange collections, those micro-pennies add up to million of dollars in business cost per year. SoundExchange has argued that Pandora could earn more money to pay higher rates by increasing its ad load.
Surrounding core arguments (of which there are many) are hosts of expert witnesses and research presentations. David Oxenford lays out the process: "During the trial, the parties will formally introduce their evidence through many witnesses. These witnesses will all be subject to cross examination. After the 5 week long hearing, there is a closing statement on Wednesday June 3, where the attorneys summarize the evidence that has been introduced."
After the trial comes more written submission of "findings and conclusions," Oxenford told us. Those submissions aim to sway the CRB toward certain interpretations of the trial evidence.
None of this touches Spotify, Rhapsody, Beats Music, Tidal, or other fully interactive, on-demand music services. those platforms negotiate directly with the labels for use of recorded music. Webcasters (which are legally termed non-interactive services) can make direct deals, too. Pandora has done so, and might turn to that path increasingly if the CRB delivers a costly statutory rate starting in 2016.
When will anyone know the outcome of this laborious process? Not until the CRB wants us to know — "probably sometime in December," says David Oxenford.