In a special research presentation at RAIN Summit West, Edison Research President Larry Rosin presented previously unreleased research from the 2015 edition of his company's Infinite Dial survey project.
Focusing on car ownership and in-car listening, the data points reveal a fairly old American fleet of cars (11 years on average, according to Rosin). Sixty-one percent of American cars are 2009 or earlier models: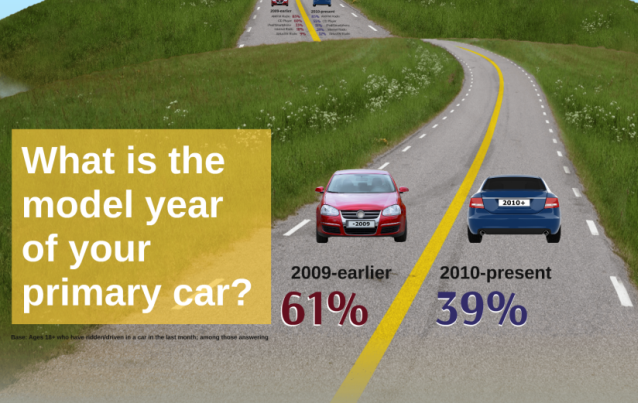 One interesting statistical finding is that AM/FM radio use holds steady regardless of car age (older or newer than the 2009 threshold). Across the board, AM/FM is selected some of the time by 85% of drivers. Internet radio is used much more in the newer group of cars: 28% in them, compared to 18% in older cars. Similarly, iPods and smartphones are used inside newer cars more than older ones — 51% to 33%. (And some of that use is probably Internet radio.)
Rosin displayed the in-car listening profiles of both car groups.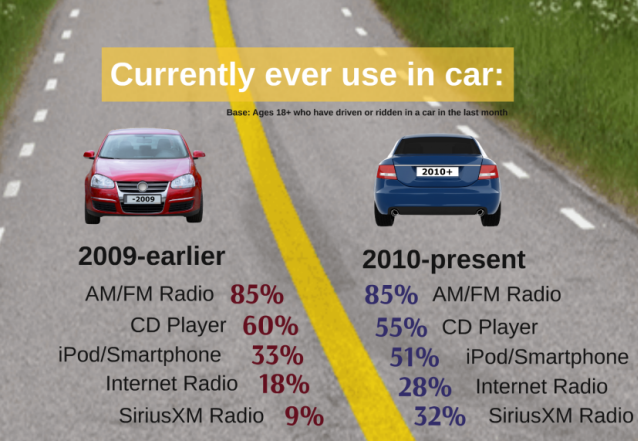 The AM/FM data point (equal use regardless of car age) changes quite a bit when the question is altered to determine the most-used in-car listening source. Respondents to that question chose AM/FM 63% percent of the time in older cars, and 47% of the time in newer cars. Larry Rosin also noted AM/FM number dropped sharply among SiriusXM subscribers (down to 28% for traditional radio).
Only 4% of 2009-and-older have connectivity in the car; 22% of the newer-car group was connected in this survey.