Join us as we return to the Westgate Hotel (formerly the LVH) for our 14th annual RAIN Summit West!

Our annual RAIN Summit West is the premiere educational and networking event of the year for the Internet radio and online audio industry, taking place as a partner event to the NAB Show.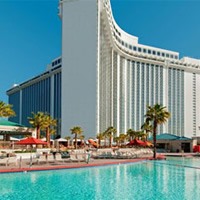 Join RAIN News Publisher Kurt Hanson and RAIN Enterprises CEO Jennifer Lane for a full day of panel discussions and presentations on all aspects of the evolving online audio marketplace, followed by the best networking event in the industry, the poolside RAIN Summit Cocktail Party.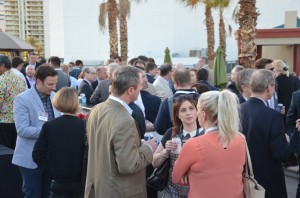 8:15-8:45





Registration Check-in

 
9:00


Opening Remarks

Welcome to the 14th annual RAIN Summit West!

RAIN News Publisher and Founder Kurt Hanson and CEO Jennifer Lane welcome you to the 14th Annual RAIN Summit West!
9:05-9:45


Showcase

Digital Solutions that Deliver

Smart sales begin with audio and include compatible digital tools that small businesses can use to drive traffic. This panel will explore platforms that are eager to help you expand your digital offering.

Moderator: Matt Sunshine, evp (The Center for Sales Strategy); Speakers: George Leith, vp sales (VendAsta Technologies); Ruth Presslaff, president (Presslaff Interactive Revenue); Gavin McGarry, president (Jumpwire Media); Kelly Shelton, vp marketing (Boostability)
9:45-10:00


Research Presentation

Internet Radio and Streaming Report

RAIN News Editor Brad Hill will present findings from a recent survey of RAIN Readers on future trends and industry insights.
10:00-10:08


Pecha Kucha

presented by Amanda Brown, COO, AudioBoom
10:10-10:55


Panel

You Should Talk

From news and talk to sports and comedy, listeners are consuming more spoken word programming online than ever before. This panel will discuss the innovations that have facilitated the rise in popularity of non-music streamed content, and the opportunity that has created for advertisers.

Moderator: Steve Jones, vp/gm (ABC News Radio); Speakers: Kurt Edwards, int'l commercial director (TalkSPORT UK); Ted Gurley, vp digital sales (Univision Communications); Jay Green, vp digital sales/ content partnerships (AdLarge Media); Beth Murphy, cmo (Deezer)
11:15-12:00


Panel

Turning Data into Dollar$

Data, big and not so big, is a key advantage for streaming over other forms of audio, enabling platforms to deliver better programming and advertising to listeners. This panel will discuss critical issues around collection and use of this information.

Moderator: Brad Hill, vp/managing editor (RAIN News); Speakers: Matt Cutair, ceo (AudioHQ); Simon Cole, ceo, (7digital); Patrick Couch, Dir Advertising Strategy (Triton Digital); Alexis van de Wyer, ceo (Adswizz); Jeff Wender, svp digital (The Nielsen Company)
12:00-12:15


POV

Why Programmatic Will Increase the Value of Audio

A thought leadership presentation presented by Brian Burdick, evp digital/programmatic, WideOrbit
12:15-12:45


Keynote

Anthony Bay, CEO of Rdio
1:45-2:15


Panel

The RAIN Legal panel

Congress, the Copyright Office, the DOJ and the CRB are all considering changes in the way digital music services pay for the music they play. This panel will explore music licensing issues currently being debated in DC. Learn how they may affect your business in the near future.

Moderator: David Oxenford, partner (Wilkinson, Barker, Knauer LLP), Speakers: Gary Greenstein, partner (Wilson Sonsini Goodrich & Rosati), David Levin, vp new media/ strategic development (BMI); Alex Luke, venture capitalist (The Valley Fund); Brad Prendergast, senior counsel licensing/ enforcement (SoundExchange)
2:15-2:23


Pecha Kucha

Presented by Pat Higbie, ceo, XAPPmedia
2:25-2:40


Research Presentation

Infinite Dial in the Car

Edison Research president Larry Rosin will present new data from the recently released Infinite Dial Study.
2:55-3:45


The Value of an Ad

The Value of an Ad

Sponsored by WideOrbit

There are many ways to measure online audio campaigns – impressions and cpms, return on investment, banner clicks, engagement. What are the best practices for measuring effectiveness? Hear several experts describe their perspective, including case studies of successful ad campaigns.

Moderator: John Rosso, president market development (Triton Digital); Speakers: Shenan Reed, president digital (MEC Global); Heidi Browning, svp strategic solutions (Pandora); Michael Guarnieri, founder & ceo (Nu Media Mix); David Kert, cro (Targetspot); Michael Jackel, vp/west (Spotify)
3:45-3:52


Pecha Kucha

Omny

Presented by Matt Saraceni, head of content, Omny Personal Radio
3:52-4:30


Panel

On Demand is In Demand

Sponsored by Podcast One

2015 is the year of the podcast! This panel will feature podcast personalities and producers discussing the passion for podcasting.

Moderator: Norm Pattiz, founder/ceo (Podcast One); Tom Leykis, host (The Tom Leykis Show); Andy Bowers, chief content officer (Slate/Panoply Media); Rob Cesternino, host (Rob Has a Podcast); Dan Granger, ceo & founder (Oxford Road)
4:30-5:00


Showcase

Streaming Audio's Startup Economy

This session will showcase several early startups related to streaming audio. Each person will deliver a quick pitch on their product to an audience that will have an opportunity to choose their favorite. The winner will be announced at the end of the day. Hosted by Joanna Bloor, consultant
5:00-5:30


State of the Industry

Kurt Hanson, Publisher and Founder, RAIN News

Kurt Hanson will deliver his annual State of the Industry Speech
5:30-5:35


Favorite Start-Up

Hosted by Joanna Bloor

Announcement of Audience's Favorite Startup
5:35-5:40


Closing

Thanks!

Thanks for coming to the 14th annual gathering of online audio execs at RAIN Summit West!



Andy Bowers
Slate/ Panoply Media
Chief Content Officer

Amanda Brown
AudioBoom
COO

Heidi Browning
Pandora
Senior VP, Strategic Solutions

Brian Burdick
WideOrbit
EVP, Digital & Programmatic

Rob Cesternino
Rob Has a Podcast
Host


Patrick Couch
Triton Digital
Director, Advertising Strategy


Kurt Edwards
TalkSPORT
Int'l Commercial Director

Dan Granger
Oxford Media
CEO & Founder

Jay Green
AdLarge Media
VP, Digital Sales & Content Partnerships

Gary Greenstein
Wilson Sonsini Goodrich & Rosati
Partner

Ted Gurley
Univision Communications
VP, Digital Sales

Michael Guarneiri
Nu Media Mix
Founder & CEO


Brad Hill
RAIN Enterprises
VP/ Managing Editor

Michael Jackel
Spotify
VP, West

Steve Jones
ABC News Radio
VP & General Manager

David Kert
Targetspot
Chief Revenue Officer

Gavin McGarry
Jumpwire Media
President

George Leith
Vendasta
VP, Sales

David Levin
BMI
VP, New Media & Strategic Development

Tom Leykis
Tom Leykis Show
Host

Alex Luke
The Valley Fund
Venture Capitalist


David Oxenford
Wilkinson, Barker & Knauer LLP
Partner

Norm Pattiz
Podcast One
Founder/ CEO

Brad Prendergast
SoundExchange
Senior Counsel, Licensing & Enforcement

Ruth Presslaff
Presslaff Interactive
President

Shenan Reed
MEC Global
President, Digital 

Larry Rosin
Edison Research
President

John Rosso
Triton Digital
President, Market Development
Matt Saraceni
121cast (Omny Personal Radio)
Head of Content

Kelly Shelton
Boostability
VP, Marketing 

Matt Sunshine
The Center for Sales Strategy
Managing Partner

Alexis Van de Wyer
AdsWizz
CEO

Jeff Wender
The Nielsen Company
SVP, Digital