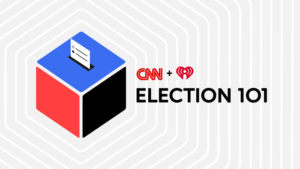 CNN is announcing this morning the launch and first-episode drop of Election 101, which the network calls a political-explainer podcast which "demystifies the American political system while offering a unique perspective on the inner workings of the electoral process." The show is produced in affiliation with iHeartRadio.
Election 101 follows the recent dual-podcast start of Politically Sound (weekly) and CNN Political Briefing (daily), which we covered in a recent Pod Drop.
The new show is a weekly, and a limited-run 10-part series (which makes sense). While the title implies a civics course on election mechanics, and the first episode is about voter registration. The promotional description also promises discussion of campaign issues like gun control, climate change, and immigration.
The show is hosted by CNN correspondent Kristen Holmes. Oddly, we could not find the show on iHeartRadio when searching for the title. It is found on CNN here. And the Apple page is here.