NPR is taking steps to deal with its generational programming crisis, announcing that Car Talk will be moved off the lot in September 2017, five years after the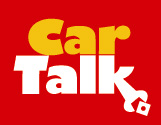 show ended new production, and three years after co-host Tom Magliozzi passed away.
The posthumous success of Car Talk is a metaphor for a critical generational turnover in NPR programming. Another anchor show, of 1970s origin, A Prairie Home Companion, ended its run on July 2 (featuring a call from President Obama). As public radio's traditional audience ages, the network's challenge is several fold: Retain that audience, engage audiences of all ages, and replace beloved chunks of programming which, for decades, have been weekend calendar appointments in linear radio listening.
Intense Production
Car Talk has extended its on-air (and podcast) life with an intensive post-production editing process led by show creator and executive producer Doug Berman. A fascinating profile and interview of Berman by Fred Jacobs describes the effort and skill invested in producing Best of Car Talk which has been playing on 654 NPR stations, creating the illusion of a program still producing new shows.
Next September (2017) that effort will cease, but some brand extensions will continue — the website, syndicated newspaper column, and podcasts that embody a yet-undetermined level of production. The 14-month heads-up to station managers might ease anxiety about losing what is still the second most popular non-news program in NPR, behind Wait, Wait, Don't Tell Me … which is also a Berman-created show. The finish line for Car Talk is intentionally smudged. "The level of production work on any future Car Talk shows for radio and podcast will depend on station and audience interest," according to Current. The end date appears more like a transition date that offers member stations a graceful way to replace the program, while giving others continuity which isn't defined yet.
Challenges and Opportunities
NPR is grappling with multiple challenges and opportunities. A clear leader in digital distribution, NPR is a leading podcast network whose success is substantially lifted by on-air promotion of key programs. NPR is the leading podcast publisher in the Podtrac Industry Ranking for June. (Podtrac measures audience, downloads, and streams of its analytics clients.) In that top-10 list, six of the leading publishers and programs are affiliated with public radio somehow.
NPR's success in on-demand audio, time-shifted and delivered online, is a win at the network level, while potentially frightening member station managers who foresee audience affiliation migrating from the local station to the network brand or the program brand. If local station fundraising suffers, it potentially becomes more difficult for stations to pay their membership dues in the network — so NPR is challenged to solve both sides of the equation.
Walking that tightrope resulted in the network ban on promoting podcasts and NPR One, the streaming content app, on the air. At the same time, the app and podcasts represent a key part of broad listener engagement and new audience development. Nieman Lab called the no-promotion decision a "strategy tax on the future."