Canalys has been tracking shipments of smart speakers for the past several years, and its report on the second quarter of 2019 revealed a shakeup in leading brands. Amazon remained the top brand with 6.6 million units shipped for its Echo line securing 25.4% market share. Baidu, based in China, took over the second spot with 4.5 million units, besting the 4.3 million units from Google. Thanks to a skyrocketing 3,700% on-year growth in shipments, Baidu's market share is now 17.3%. Two other Chinese brands, Alibaba and Xiaomi, posted shipments of 4.1 million and 2.8 million, respectively, to secure the fourth and fifth spots.
China has been a noteworthy source of growth for smart speakers over the past year. The nation saw 12.6 million shipments of smart speakers in the period, compared with 6.1 million units in the United States.
"Aggressive mareting and go-to-market campaigns build strong momentum for Baidu in China," Canalys Research Analyst Cynthia Chen said. "The vendor stood out as a key driver of smart displays, to achieve 45% smart display product mix in its Q2 shipments." Chen added that Baidu doesn't have much competition for smart displays.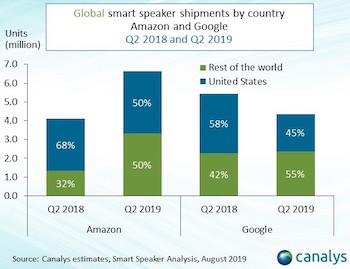 "Amazon and Google are focused on growing their business outside the U.S.," added Jason Low, a senior analyst for Canalys. "Google's transition to the Nest branding while pivoting to smart displays proved to be a challenge, especially as it has begun rolling out its Nest Hub smart display globally. Google urgently requires a revamped non-display smart speaker portfolio to rekindle consumer interest, as well as a robust marketing strategy to build its Nest branding outside of the U.S."
Amazon has increased the share of its smart speaker shipments outside of the United States in the past year, as shown in the chart. Just half of its sales are now in the U.S., meaning about 3.3 million Echo shipments were to other markets. Google's non-U.S. shipments also rose, but just from 42% to 55%.