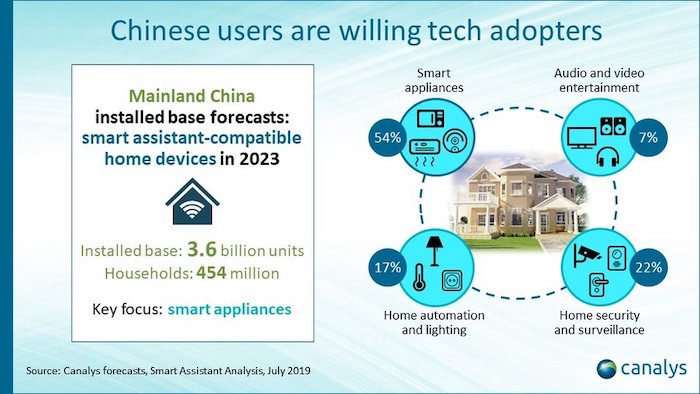 New research further solidifies the importance of China as a future top market for applications of voice technologies. Canalys released a prediction that China will be the world's largest smart assistant install base by 2023, numbering an estimated 5.8 billion devices with the technology built-in or compatible. If it reaches that figure, China would have twice the projected install base of the United States.
Canalys anticipated that the install base for devices with built-in smart assistants will reach 2.2 billion by 2023. Smartphones are expected to remain the majority of that figure with 59%.
"The growing Chinese middle class is relentlessly pursuing a higher standard of living, and smart appliances will play a major part in their vision of the ideal home," Canalys Research Analyst Cynthia Chen said. "Appliance makers Haier, TCL and Hisense are changing their strategies to capture the trend early. Even the retailer Suning and smartphone vendor Xiaomi are aiming to disrupt the market."
Canalys predicted that a Chinese household will have an average of seven devices compatible with smart assistants by 2023. The install base of compatible devices is projected to be 3.6 billion units and reach 454 million households. Large appliances such as washing machines, air conditioners, and refrigerators are expected to be the biggest growth contributor to that smart assistant-compatible total. Interest in saving energy and healthier living environments are expected to be a noteworthy emphasis in China's uptake of smart assistants.