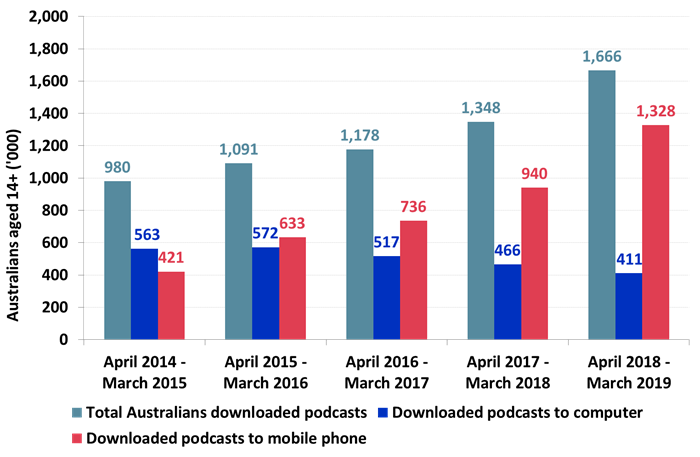 Research company Roy Morgan has released new insights about the growth of podcasting in Australia and New Zealand. According to its most recent survey, more than 1.6 million Australias now download podcasts in an average four-week period, up from about 700,000 people in 2015. The metric includes both audio and video versions of shows.
Downloads to mobile phones generated much of the growth in that total, with the audience growing more than 215% since 2015 to more than 1.3 million people. In contrast, podcast downloads to computers have declined slightly since a high point of 2016. That year about 570,000 Australians downloaded podcasts to computers, and the latest survey found about 410,000 people reporting the practice.
"Analysing podcast downloaders by socio-economic quintile shows the sought after members of the AB socio-economic quintile are the most likely to download a podcast and the top two quintiles comprise 59% of podcast downloaders," Roy Morgan CEO Michele Levine said. "By generation Australia's most avid podcasters are Millennials who constitute over 40% of podcast downloaders ahead of the younger Gen Z (29%) and slightly older Gen X (21%) while Victorians download at a higher rate than any other state and men are slightly more likely than women."
Roy Morgan also shared insights from surveys of listening in New Zealand. In an average four weeks, more than 320,000 people in the market download audio or video podcasts. The audience grew 82% over the past three years.
"The increasing popularity of downloading podcasts, which can be to one's mobile phone, computer or tablet, is being driven by younger New Zealanders," Levine said. "Over 10% of Millennials (born 1976-1990) and Generation Z (born 1991-2005) download podcasts compared to only 1% of Pre-Boomers born before 1946."