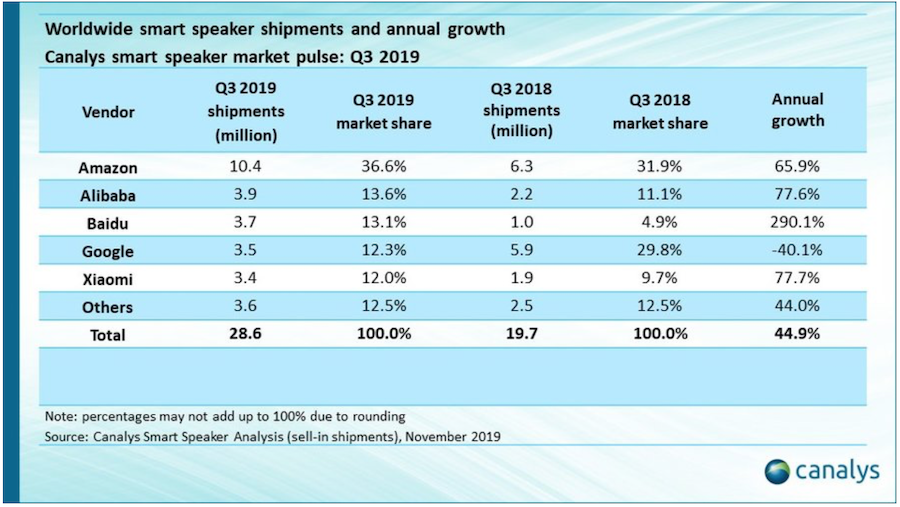 Canalys shared its third-quarter statistics about global smart speaker shipments. Amazon continues to lead the pack, while Google has ceded second place to competitors from China. Amazon saw 65.9% annual growth, with worldwide shipments numbering 10.4 million. The conglomerate's market share reached 36.6% for the third quarter, up from 31.9% in the same period of 2018.
Alibaba and Baidu are in close contention for the runner-up spot in global shipments. Alibaba edged out ahead for the period with 3.9 million shipments and a 13.6% market share. Baidu posted 3.7 million shipments and a market share of 13.1%. Both Chinese businesses saw massive leaps from their positions last year, with annual growth of 77.6% for Alibaba and 290.1% for Baidu.
Google was the only top brand to see a decline between the third quarter of 2018 and 2019. It still remains a key player, with 3.5 million global shipments and a market share of 12.3%.
"Low-priced devices are vital growth drivers for smart displays and heated competition ahead of the Q4 shopping season is expected," Canalys Senior Analyst Jason Low said. "It is crucial, especially for Chinese vendors, to avoid falling victim to the sunk-cost fallacy, in which they have to stop money-burning to achieve shipment goals, but instead focus on their overall business objectives and to generate revenue soon."
Smart displays were increasingly visible in the period. This sub-category of smart speakers accounted for 6.3 million units shipped in the period, with 500% global growth. Baidu leads this segment with 2.3 million units, followed by Amazon with 2.2 million.