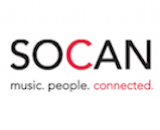 Canadian collection agency SOCAN announced a record-high revenue for 2017, but the organization shared the news with a caveat. Total performing rights revenue surpassed $350 million last year, up 6.4% from the year prior. Royalties distributed to SOCAN members reached more than $300 million, a record high for the group.
Internet audio streaming revenue rose 46% from 2016. Although the organization did see the marked uptick from streaming, its leadership still wants to see more from the digital space.
"Canada's and the world's music creators and publishers are receiving more of what they have earned; however, in most cases those amounts are too small because of frequently unfair royalty rates that are not commensurate with the true value of their creative intellectual property," SOCAN CEO Eric Baptiste said.