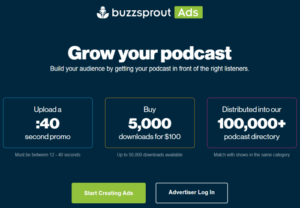 Buzzsprout is creating buzz (sorry) for its new podcaster advertising program, Buzzsprout Ads, which allows podcasters to purchase midroll spots in Buzzsprout-hosted podcasts. All podcasters are eligible buyers in this system, whether or not they host on Buzzsprout. But for this beta launch, the program is invitation-only on the buy side.
Nonetheless, the public-facing announcement is directed to ad buyers. The promotion is absent of details pertinent to Buzzsprout shows which will receive the ads. But by digging into the Buzzsprout Facebook community we were able to piece together the entire picture.
Key details:
Buzzsprout is implementing CPM pricing at $20 per thousand downloads of a purchased placement.
The minimum buy is an affordable $100 (5,000 downloads of episodes containing the ad).
Buzzsprout offers a podcast universe of over 100,000 shows. Shows eligible to receive ad placements must be at least 15 minutes long.
Buzzsprout implements a system for finding what it calls "high-quality ad breaks" which are the insertion points.
All ads are placed as midrolls.
The ad placement tech also inserts a musical cue for listeners, alerting them that an advertisement will start soon.
Podcasters hosting ads receive 1.4 cents per ad download, or $70 per minimum buy of $100, if that entire buy were placed into one show. In other words, a 70/30 revenue split.
See an explanatory document for Buzzsprout podcasters HERE.
On the buy side, any podcast is eligible, no matter where that show is hosted.
The company pitches this promotion as "buy an audience, not a show," and promises "Your message, your voice, delivered to people who enjoy podcasts in your category.
.