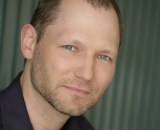 Brian Lakamp, who guided the rise of iHeartRadio, will leave iHeartMedia. Lakamp confirmed with RAIN News that he is exiting the company to pursue entrepreneurial opportunities.
As President of Digital, Lakamp was the executive owner of iHeartRadio during its quick growth to 50-million registered users (now 60-million). Last July, he assumed a new role as President of Technology and Digital Ventures. It is that position he is resigning, and the groups which reported to him will be reorganized within iHeartMedia.
Part of the internal reorganizing involves Brian Kaminsky, Chief Operating Officer of iHeartRadio Networks, who will be promoted to President of Programmatic and Data Operations, a key role as iHeart (and audio generally) moves into automated, data-infused ad sales based on audience segmenting and smart impressions.
Kaminsky went to iHeartMedia from AOL, where he was COO of The Huffington Post. He has a background in ad sales, both at AOL (pre-HuffPost) and at Thomson Reuters.