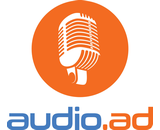 Jovem Pan, the largest radio network in Brazil with  142 stations, has allied with Audio.ad, the audio advertising company serving Hispanic market in the Americas, to put its digital audio inventory in Audio.Ad's automated platform. The partnership gives Jovem Pan advertisers access to Tail.digital, an audience data and segmenting platform.
Rodolfo Negrão, Commercial Director of Jovem Pan, noted that in 2015, nine percent of audio buying was digital, and projected that by 2018 that number will be 28%.
"Audio.ad is proud that Jovem Pan, the leading radio network in Brazil, has joined our programmatic platform to market its digital inventory," said Carlos Cordoba, Managing Director of Audio.Ad. In this way, we incorporate more options for Brazilian advertisers."
Audio.Ad claims a total audience of 55-million listeners in its ad network across Latin America and the U.S. Hispanic market.