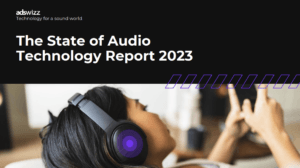 Audio adtech giant and SXM Media subsidiary AdsWizz has released a deep and detailed guide to technology tools in digital audio advertising, matched to advertiser expectations and future needs. The 2023 version follows earlier annual reports.
It is a formidable whitepaper, casting a knowledge net over the industry punctuated by company-specific technologies, products, and solutions. The document has impressive knowledge and prediction value aside from its promotional mission.
This review covers just a few points. We recommend downloading the 21-page PDF; it is HERE.
"With an expanding variety of content and distribution fragmentation, brands will covet streamlined buying that feels familiar to current media buying practices." –AdsWizz
Contextual targeting is an important subject in this doc, essential for bringing more insight into podcast content. This enables advertisers to go beyond targeting keywords to targeting concepts and topics within podcasts. Transcription plays an important part in contextual targeting, and AdsWizz observes a 32% increase in transcribed shows from 2021 to 2022. There are now over 17-million transcribed episodes in the AdsWizz Podcast Repository.
"AI audio innovations have already made a significant impact on the way brands interact with their audiences. As AI technology advances, we expect this trend to continue, with powerful tools to support brands in becoming more agile, resourceful, and audience-centric." –AdsWizz
Campaign forecasting is noted as an important planning technology, involving complex algorithms that measure metrics such as ad break duration, ad load per break, potential ad clashing, and more. Overall, targeting helps advertisers optimize the spend by minimizing wastage and improving effectiveness. An example is "anti-targeting," which pulls ad buys away from placements that are brand-unsafe or inappropriate.
Brand safety is emphasized in this report. AdsWizz expects, and respects, increasing demand for brand protection technology from advertisers. The company tells buyers to expect more third-party measurement providers to enter the space.
This deep and detailed presentation ends with a glance toward audio in gaming environments. AdsWizz emphasizes the powerful presentation features of gaming: Players can listen to an ad without it interrupting gameplay. 
"Interestingly, audio is generally effective post-listen, with ad breaks taking effect after listeners disconnect, so the number of requests may be higher than the impressions delivered."
---