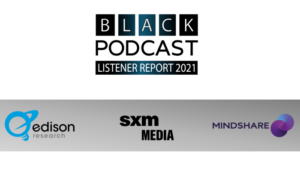 The much anticipated Black Podcast Listener Report, with support from Edison Research and Mindshare, was released today and presented in a webinar.
The survey was conducted in August, and it collected interview responses from over 2,500 Black/African American adults (18+) in the U.S.
Basic awareness and involvement metrics resemble the overall U.S. population as measured in The Infinite Dial, the Edison-produced, Triton Digital-supported annual survey which comes out each March. So:
77% of the total and Black populations are familiar with "podcasting" as a term.
36% of the Black Population listens monthly (40% in the whole population)
26% percent listen weekly (vs. 28%)
Discovery
There is an interesting distribution of the adoption curve, looking at when Black monthly listeners started consuming podcasts. The largest group has been listening for one to three years. And generally, men discovered podcasts earlier than women did, and have been listening longer:

How do Black monthly listeners discover podcasts? And how did they choose the first podcast?
To the first question, the dominant answer is social media, followed by friends/family recommendation. Choosing the first podcast was governed mainly by topic (see below). So, seeing a podcast about a subject of interest, on social media, appears to be the main on-ramp to podcasts for Black listeners.
For both men and women, most Black monthly listeners are tuning in to podcasts more this year than last year — 57% across genders, and 62% for men.
Time spent
Turning to weekly listeners, Edison wanted to know how much time Black listeners spent. Overall, men enjoy more deep immersion: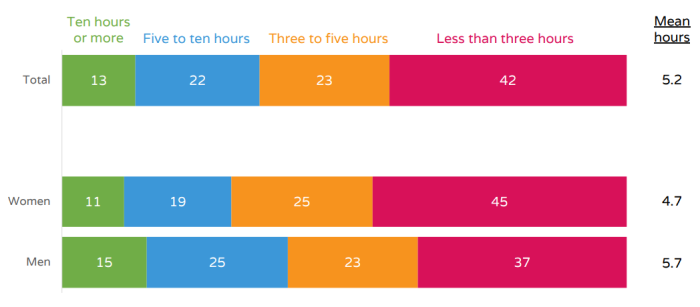 Unsurprisingly, most (65%) Black monthly listeners use a mobile device. And in-home listening happens with 92% of respondents. (In-car-or-truck listening places second in the location question, with 68%.)
One of the most notable differences between Black listeners and U.S. total listeners is sociability. Among weekly listeners, 47% of Black listeners consume podcasts "at home while spending time with family and friends" — it's just 23% for the general population.
Important points about video in podcast listening
Also notable: Black podcast listeners are attracted to podcasts with a video component — 83% of monthly users have done that at least once. Reasons? That sociability factor is one reason; 32% of respondents replied positively to "It's easier to listen to or watch with other people." The presence of user comments on videos is another reason. Also, "It's easier to pay attention." YouTube plays a part: 42% of these video/podcast consumers transfer their general YouTube use to podcasts. And 34% say that YouTube is easier to use than other platforms.
Black production
A key finding:

Along that line, Black weekly listeners would be interested in several key categories if the shows primarily focused on Black stories and perspectives: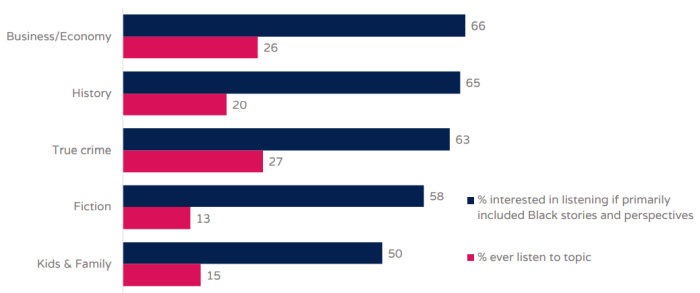 Advertising and listener support
The Black podcast audience is supportive in various ways, not least in responsiveness to podcast ads. An encouraging 84% of listeners would be "somewhat likely" or "very likely" to consider the advertising brand (32% "very").
Edison asked Black podcast listeners about 10 potential ways of supporting a podcast, from adding the show to a feed, to buying merchandise, to sending donations, to Patreon support. In total, 86% of listeners have taken some action to support a podcast or podcaster.
This article is a brief account of the 40-plus slides presented today. The entire package is freely available at Edison Research.
.