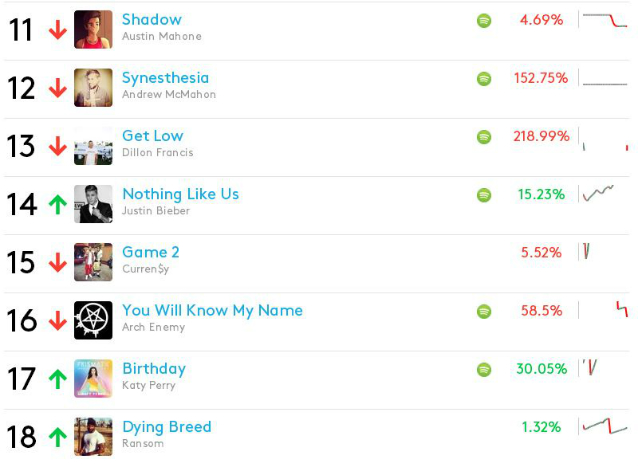 As we reported in March, Twitter's next musical act after the recently-demised Twitter Music is a collaboration with Billboard for new music charts powered by social buzz. Two of those charts launched this morning: Trending 140, and Emerging Artists. Trending 140 uses an algorithm to determine upward-trending songs in Twitter's U.S. stream. Emerging Artists lists most-shared artists who have fewer than 50,000 Twitter followers, and who have not appeared in the top-50 of Billboard Hot 100.
It is apt to say these "go live" today, as they are real-time, constantly updating lists fed by the continuous crowdsourced flow of Twitter references. We refreshed the trending 140 list repeatedly, watching songs shift position, moving up and down the list. Billboard will compile weekly version of both lists for the print magazine.
The Billboard Twitter lists are interactive. Clicking on any listed song pops open a Twitter box enabling the user to tweet that song, adding to its social ranking. The charts have built-in linkage to Spotify, which presents each chart as a Spotify playlist. In our testing we couldn't get the pop-up playlist to work, but Spotify's desktop app did boot up to handle the task.
Music is the most popular Twitter topic, with over one-billion music-related tweets posted in 2013. Seven of the top 10 most-followed Twitter accounts belong to musicians.
"The Billboard Twitter Real-Time charts are another example of Billboard staying at the forefront of tracking music consumption," according to the announcement.