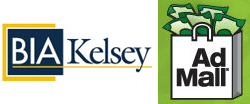 Research firm BIA/Kelsey and business intelligence firm AdMall have formed an alliance to provide high-quality information to media buyers. BIA/Kelsey will furnish some data from its Media Ad View Plus product, plus comparison data of traditional vs. local spending.
"As media buyers look both locally and nationally to identify the right mix of traditional and digital channels for reaching local targets, it's critical to have a complete understanding of the total ad pie." said Dr. Mark Fratrik, SVP and chief economist, BIA/Kelsey. "We are pleased to partner with AdMall to deliver data that offers a valuable snapshot of the ad market so buyers can decisively identify trends, revenue opportunities and, very importantly, competitors."
AdMall creates databases of companies across several sectors including automotive and healthcare, and consumer spending metrics, to help media salespeople.
The partnership, in addition to enriching AdMall products, will benefit subscribers to both companies, who will be able to integrate BIA/Kelsey data directly into AdMall reports.