BIA Advisory Services has released a new forecast for local advertising revenue that reflects the negative impact of the coronavirus pandemic. The original outlook expected that U.S. local advertising would reach $161.3 billion this year, with digital sources pegged to be $66.9 billion.
The new forecast suggested that this year's local advertising revenue in the U.S. will be $144.3 billion. That is a 10.6% decrease from the original report, and is even down 3.6% from its 2019 results.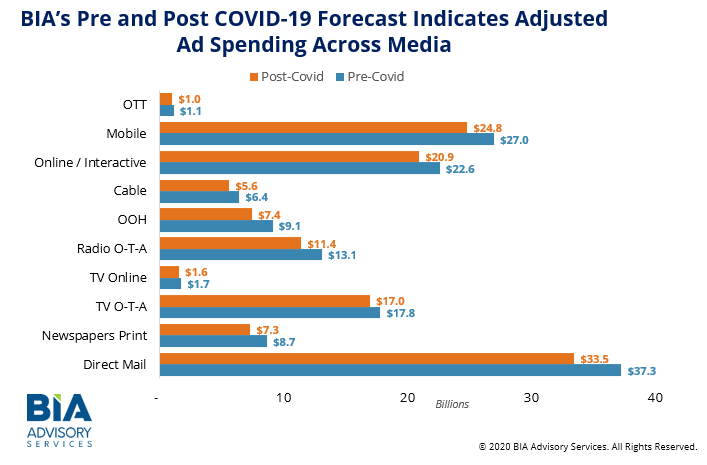 "To formulate the update to our local advertising estimates, we considered all the different angles of the economic impact of COVID-19 on the economy, including unemployment, local market specific factors, and the declining ad spend of key business verticals," said Mark Fratrik, BIA Advisory Services' SVP and chief economist. "A realistic view of the virus is that it will continue to have a negative impact on the second quarter, with some continuation into the third quarter. We have assumed that there will be a strong rebound in the latter part of the year, but we will have to re-evaluate as the on-going economic impact becomes clearer."
In BIA's new assessment, media has taken several hits from the pandemic. Local Radio and Local Television lost ad spend due to financial losses in leisure and entertainment, restaurants, and retail sectors. Online (desktop) ad spending is also projected to see dips since it is primarily driven by SMBs, many of which have closed or made big cuts in advertising response to the outbreak.