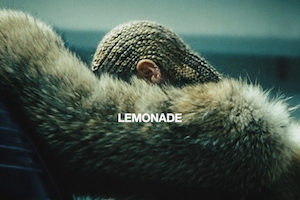 Lemonade, the 2016 album by Beyoncé that has already attained the status of a modern classic, has launched on all streaming services. The record was notable for its very limited availability: Lemonade was available for digital purchase but could only be streamed on Tidal and that platform had the exclusive streaming rights to the album "in perpetuity."
The music industry is subject to its own set of unique trends. Exclusive album releases, ones gated to a single platform, dominated the conversation about the power of streaming in 2016. Beyoncé's album Lemonade was one of the works at the center of that discussion. She kept the album and its companion video special restricted to Tidal's paid-only platform for three years. Several of the other noteworthy albums released with limited distribution in 2016 have also gone public across the streaming world, such as Kanye West's The Life of Pablo and Adele's 25.
Why the change? An optimist might see it as a sign that artists are seeing their concerns about the streaming economy alleviated as the format provides an ever-larger share of music industry revenue.
But more realistically, ending a windowed period opens up a new audience and a new revenue stream for previously gated albums. A leading risk of limited distribution is that listeners will turn to piracy rather than paying. Giving fans an above-board path to accessing the music they want after a waiting period may actually increase the hype around a project. Since 2016, there haven't been as many major releases that are following the exclusive distribution format. Top artists in the past year have generally opted for widespread distribution.
For Beyoncé, the timing is hardly an accident. The artist just released a Netflix documentary called Homecoming about her headlining shows at Coachella in 2018. She has also dropped a companion album with the same title. Bringing Lemonade to all of her fans at the same time offers more context to viewers about the trajectory of her career, and seems very likely to set new streaming records. Keeping an album that's three years old in the public eye and in the cultural conversation is no mean feat.