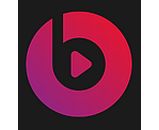 Bloomberg reports that Beats Music disclosed sign-up numbers to its private investors in February, and that the subscription-only service attracted paid users at an average of 1,000 per day for the first month. The online jukebox service launched on January 20.
Audience growth will be scrutinized for the newest U.S.-based online music service, to whatever extent the privately-held company discloses of leaks its metrics. The competitive viability of Beats in a field jammed with early-movers, established brands, and multiple platforms that all work in approximately the same way. Beats Music received an approximately $60-million investment this month, and had already spent heavily on high-profile marketing, including a Super Bowl ad starring Ellen DeGeneres.
the company enjoys a structural advantage in its bundling deal with AT&T, which reportedly puts the service in front of 750,000 prospective subscribers. AT&T service users can get a family plan for Beats Music at a substantial savings for larger households. It is unknown how many in that population of 75,000 people engaged the trial period. But Bloomberg reports that 70 percent of those who did, converted to paying users.
Competitor Spotify owns about six-million monthly subscribers, while offering a parallel no-charge service that is monetized with advertisements. The Rhapsody music service, which, like Beats and some others, does not offer free listening, reportedly has about a million subscribers.