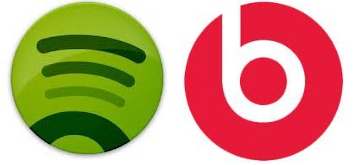 As expected, Beats Music made its TV-ad debut with a Super Bowl commercial starring Ellen DeGeneres. The capricious 60-second spot focused on Beats' consistent marketing angle of delivering music that is just right for each listener.
We find it odd and inconsistent that Ellen tried three instances of Beats Music, each of which failed her, before: "Then she tried Beats Music." But we get the point — in her personally customized Beats Music experience, all was good.
It is interesting to compare Beats' high-profile, expensive, celebrity-driven marketing approach to Spotify, arguably the main competitor, which didn't run a Super Bowl ad, doesn't advertise much at all, but does promote its service with video:
Spotify's tagline, "Free your music," emphasizes the do-it-yourself access model, liberated from top-down programming. That message was formulated to distinguish Spotify from radio and CDs, but works to differentiate against Beats Music also. A different Beats commercial advertises "The right music, like magic," and "You'll be blown away by what happens when you hit Play." The lean-back subtext is that Beats offers a better version of radio, not a wholly different type of music consumption.
The truth is that Beats Music and Spotify offer nearly identical subscription features. But Beats is subscription-only (another meaning of Spotify's "Free your music"), and the value it advertises for it pay-up business model is uncannily smart music curation. Spotify quietly provides human-powered playlists, too, as well as an app ecosystem with music recommendations by Pitchfork, Rolling Stone, and many others.
The essential messaging from these two companies might be paraphrased like this: "Perfection by us" (Beats Music); "Everything for you" (Spotify).