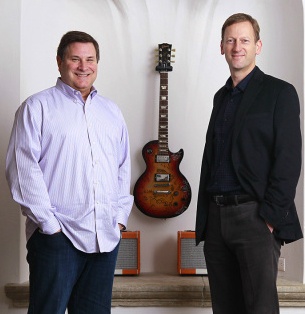 Slacker has hired Nintendo exec Duncan Orrell-Jones to be CEO of the Internet radio company, replacing existing CEO Jim Cady, who will stay on the board of directors. Orrell-Jones starts next Monday.
Orrell-Jones is SVP of Network Business, and leads strategy and operations for the gaming firm. Previously, he managed the Disney Interactive Media Group.
The Slacker press release notes that the music service began in 2010, but we peg the company launch in 2007, according to numerous sources. The Internet Archive provides screenshots and press reviews of the web-based streaming service from that year. Slacker raised $68-million in venture funding across four rounds between 2007 and 2009, according to Crunchbase.
Orrell-Jones comes in during a crunch time for all online music services, as an increasingly crowded field of competitors elbow for position, seeking to differentiate from each other by product features and quality of service. The new Beats Music service launched two weeks ago in partnership with AT&T, and ran a Super Bowl ad starring Ellen Degeneres. Deezer will bring its successful European service to the U.S. sometime this year, and credible rumors have YouTube launching a music-focused service in 2014.
During this land rush, it is questionable to what extent consumers are able to distinguish the fine differences which separate many services, and where the marketplace lies today between infancy and saturation.
In that challenging context, Slacker promotes its North American telecom distribution deals (Verizon, AT&T, Sprint, T-Mobile, U.S. Cellular), and its auto placement with several major car builders. Outgoing CEO Jim Cady noted that Slacker gained over 21-million new listeners in 2013.