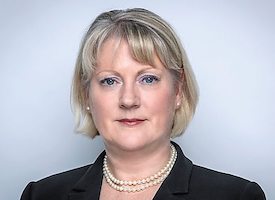 Anne Bulford is departing her post as the deputy director-general of the BBC. She is stepping away from the broadcaster to pursue other non-executive roles. She was the first woman to hold the deputy director-general post at the BBC and was its highest-ranking woman at the time of her departure.
"Anne has been an inspirational leader," said Hall. "She has brought real insight and determination in bringing change to the BBC. Her achievements at the BBC are many — she has ensured the BBC continues to innovate and deliver hugely popular services to the public. She has vastly improved the BBC's efficiency to industry leading levels. She has led a transformation in the BBC's working practices."
"It's been an honour to be the first woman Deputy Director-General of the BBC and I'm proud of what we've achieved since 2013," Bulford said. "The BBC is an amazing organisation, with so many talented people. I feel I'm leaving the BBC in a stronger position and I'd like to thank Tony, my colleagues and especially all my teams for their contribution and hard work."
The BBC had a big year in 2018, including hiring Jason Phipps as its first ever commissioning editor for podcasts and launching the BBC Sounds app.