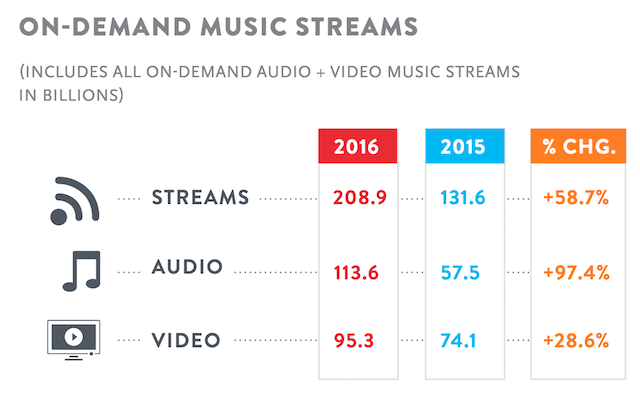 Nielsen's mid-year music report revealed a continuing upward trajectory for digital sources, including audio streams nearly doubling since the first six months of 2015.
Audio surpassed video as the top format for on-demand streaming, with a share growing from 44% in H1 2015 to 54% in H1 2016. This is a surprising turn of events after several reports showing dominance for video. (Audio's growth over on-demand music streaming is echoed in BuzzAngle's recent H1 2016 report, released yesterday.) In the same period of 2015, video had accumulated 74.1 billion streams compared with 57.5 billion for audio. Audio streams skyrocketed up to 113.6 billion streams for the first half of 2016, compared with 95.3 billion video streams.
Total digital music consumption increased 14.8% between the first halves of 2015 and 2016. All digital sources counted by Nielsen include digital albums, track equivalent albums, and on-demand streaming equivalent albums. Total digital units were 194.6 million in H1 2015 and rose to 223.5 million in 2016.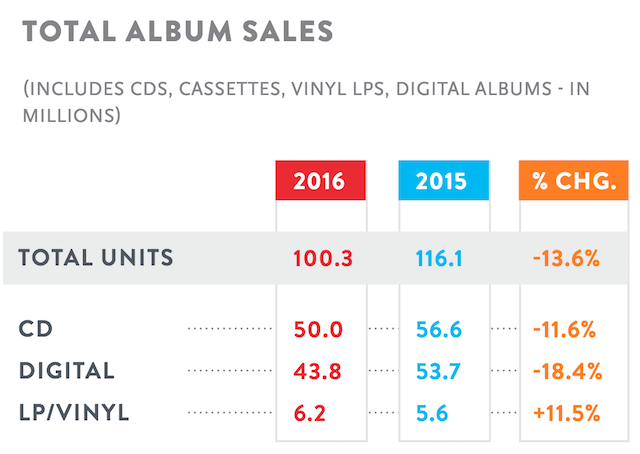 Despite the positive performance for digital sources, total album sales posted a 13.6% decline in units. That incorporated an 11.6% drop in CDs and an 18.4% decrease in digital downloads. Digital track sales fell 23.9% between the halves.
For a year that has had so many compelling album distribution stories, several of the top albums in Nielsen's accounting will be familiar. Drake's Views, which spent several weeks as an Apple Music exclusive, was No. 1. Adele's smash hit 25 held on to No. 2 after its record-breaking 2015 performance. Lemonade by Beyoncé hit No. 3; her album was available as a traditional purchase, but only streamed on Tidal. Justin Bieber's Purpose and Rihanna's Anti rounded out the top five.