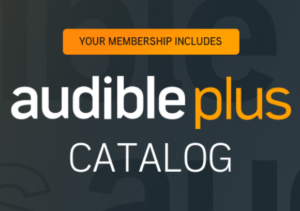 In a peculiar reversal of standard audio subscription value and price points, and a demonstration of Audible's often-overlooked power in audio publishing, the Amazon-owned company has launced Audible Plus, a subscription plan the provides access to the entire Audible Original library (audiobooks and podcasts) of 68,000 productions. It costs $7.95 per month.
The new plan is bolted onto the existing audible subscription, which works by accumulating credits for free or discounted audiobook listening. That legacy plan is now called Audio Premium Plus, and it now bundles in the Plus originals. It is a consolidation of previous Gold and Platinum plans which offered different prices and credit schemes. This new plan costs $14.95 per month.
Audible distributes a catalog that embraces hundreds of thousands of spoken-word downloadable audio productions — all of it behind paywalls. While premium podcast tiers like Luminary, Stitcher Premium and Wondery Plus lure subscribers to much smaller collections of sometimes-exclusive, always non-advertising shows, Audible unabashedly charges $8-15 a month for a gigantic collection of (often) glossy, immersive pieces of storytelling. As far as we know (and certainly in Audible Originals), not a single advertisement is audible in Audible.
No quality judgment here. We are observing how different are the economics and consumer propositions of the audiobook industry (which is now pushing into original podcasting).
According to coverage in The Verge, this launch is formally a "Preview" phase, preliminary to locking it in.