A new study by Signal Hill Insights, the Toronto-based research firm headed by Jeff Vidler, focuses on brand lift — increased awareness of a brand name when being exposed to it in a podcast ad. The research results are published on Pierre Bouvard's Westwood One blog, HERE (Westwood One, a division of Cumulus, is the #5 podcast network in downloads, according to the Triton Digital U.S. Podcast Report.)
The report is part tutorial, explaining the concept of "brand lift." It is the difference between awareness of a brand without hearing a company ad(usually lower) and awareness  of the brand if an ad was heard (usually higher).
"Two groups of consumers are measured. One group is exposed to a portion of a podcast that contains the brand ad. Another group, the unexposed segment, hears the podcast segment without the ad. A series of questions are asked of each of the two groups. The difference in response among those exposed to the brand ad is the 'lift' achieved by the podcast ad."
The research uses both aided and unaided questioning. Aided questioning allows the respondents to view or hear a list of brands, of which the testing brand is one. No help is provided in unaided questioning.
The headline result is actually not the lift (although it's important) but the purchase consideration and purchase intent — two different measurements obtained by this study: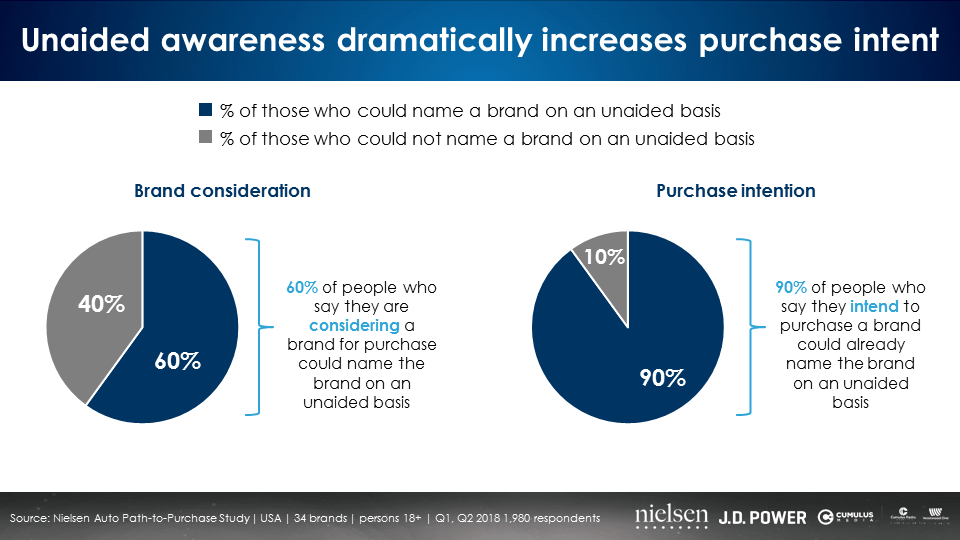 The study presents multiple surveys of different brands, each one yielding a metric for unaided  awareness, brand favorability, aided awareness, and "take action."
Key points as a brief executive summary provided by Westwood One:
No longer can marketers assert podcast advertising cannot be measured as there is a robust and experienced set of firms that are measuring search and site traffic as well as podcast brand effect.
Awareness is important because it drives sales. A brand must be known before they are needed. According to Nielsen, unaided awareness is responsible for 60% of all brand considerations and 90% of all auto purchase intentions.
Podcast brand lift studies prove that podcast advertising can be a brand builder, delivering growth in awareness, favorability, consideration, and likelihood to take action.
.