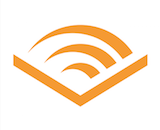 Audible is running a new promotional campaign in Australia/New Zealand aimed at encouraging more people to pick up audiobooks. The campaign has tapped some popular local celebrities to tout audiobooks as a way to keep up with their 'to-read' lists even when they lead busy lives. The celebrities are Celeste Barber, an author and Instagram star; Clarke Gayford, stay-at-home dad and husband of New Zealand Prime Minister Jacinda Ardern; and Poh Ling Yeow, a chef, TV presenter, and author. Each of the stars shared a few of their favorite titles as part of the campaign.
Audible also released some data on reading and audiobook habits in Australia. Two-thirds of Aussies (66%) have at least one book on their to-read wish list, and 62% said they don't read at all because they don't feel they have time. A third of Australians, about 6.6 million, listen to audiobooks, but the rate rises to more than half among millennials.
In terms of audiobook preferences, cultural cache seems important in these countries. Two-thirds of Australians (65%) said they would be more likely to listen to an audiobook with a celebrity narrator. Titles that make a lot of watercooler buzz also had higher interest. Game of Thrones was the leading title Aussies most often with they had read at 23%.